Imaginative Play in the Woods
"Logic will get you from A to B; imagination will get you everywhere." – Albert Einstein
According to Bob Hughes imaginative play breaks the conventional rules which govern the physical world, and fantasy play is the make-believe world of children. When all children have is what nature offers, it's truly amazing to see their creativity come to life.
Role play, make-believe, whatever you like to call it, the woods is the perfect place to let your imagination run wild. Throughout our sessions we have encountered brave warriors with stick swords and bark shields, we have fought off the scariest of mud monsters, we have created homes for fairies, and even had our own nature catwalk with fern dresses and beech headbands.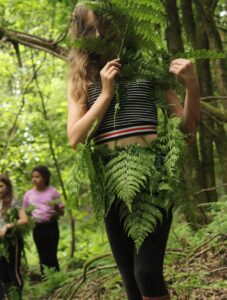 Not only does imaginative play allow children to express their creative side, but it can also benefit their personal, social and emotional wellbeing. The freedom of imaginative play enables children to express themselves in different roles, and from our own experiences, this can bring out a whole new person beaming with confidence, knowing that role was "made for them".   The collaboration with other children to create common mindset about their role-playing game helps children to communicate their ideas and express their likes and dislikes about certain aspects of the games.
Of course, imaginative play can occur within 4 walls, however, it's scientifically proven that being submerged in nature is beneficial to our mental health, achieving a more relaxed state of mind (Armstrong 1996). As well as being relaxed, the removal of the 4 walls and "bubble-wrapped" approach to the children's safety encourages the children to risk assess the next steps in their play.
5 ways you can be imaginative in the woods.
By Lauren Taylor – Forest Frontiers Forest School Assistant